Using your central vacuum
Tips and tricks for proper use of your central vacuum.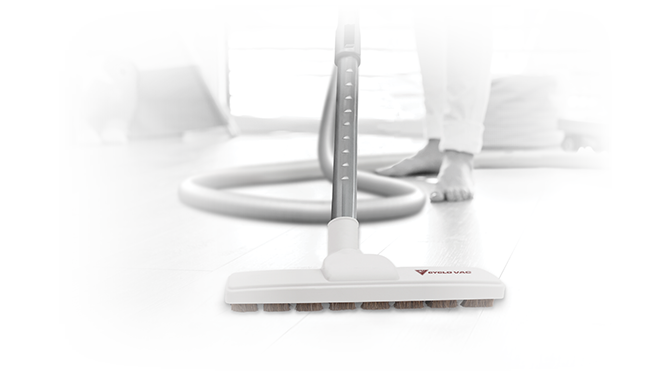 Things to verify before the first use of your central vacuum
Before operating your central vacuum, we recommend you read the whole owner's manual and proceed with a quick verification of your unit's installation.
For instance, you must verify that your central vacuum is properly connected to the piping system and to a grounded electrical outlet, and that the low voltage wires are connected to the unit;
Check the bag/filters to be sure they are properly installed and not damaged;
Check the rubber seals in each vacuum inlet.
Suction of liquid with a Cyclo Vac central vacuum
Your vacuum cleaning system is designed to collect everyday dry matter (dust). It is approved by authorized testing agencies for dry use only. Do not use on wet surfaces. Should you accidentally vacuum liquids, immediately unplug the unit from the electric outlet, then empty and wipe the dust receptacle with a dry cloth. After that, operate the system from the vacuum inlet through which you had previously vacuumed the liquid, in order to eliminate all moisture in the piping system.
Materials not to be vacuumed with a Cyclo Vac central vacuum
We strongly recommend against vacuuming abrasive materials such as cement, plaster and gyproc dust. This fine dust could work its way into the motor, causing considerable damage. Should you do so inadvertently, immediately clean the filters and, as a precautionary measure, contact your authorized service center to determine the extent of the damage to the unit. Remember that in order for your warranty to remain valid, maintenance of the motor and repairs to the unit itself must be carried out by an authorized service center, using original Cyclo Vac or Trovac parts.
Trouble with your Cyclo Vac central vacuum?
Please consult your Cyclo Vac instruction manual. If none of the measures listed solve your situation, please contact the service center in your area.

Looking for a Cyclo Vac expert?
Cyclo Vac offers you an extensive network of professionals across Canada. Find the nearest reseller!
find a store